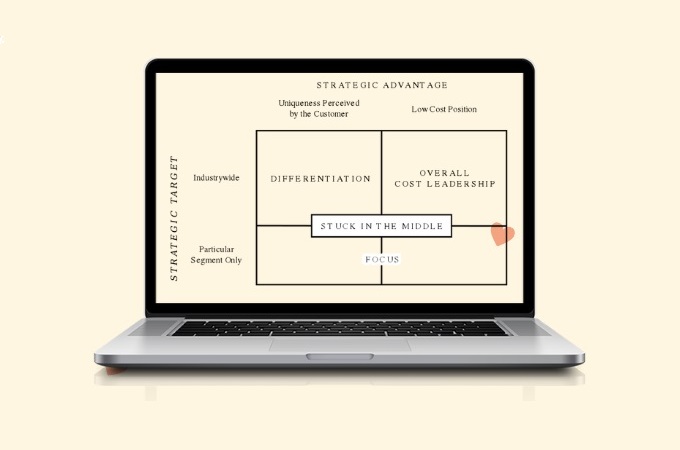 There are many management techniques that anyone can use. With that being said, Porter's Generic Strategies is one of the most frequently used among these techniques. This strategy is used to visualize the approach of a company or organization toward its competitors. For example, if the competitor provides lower costs for their products/services, then you can use the "Lower Cost" strategy to counter them. If you want more information and examples, then continue reading below.
Porter's Generic Strategies
What is Porter's Strategy?
Porter's Generic Strategy was introduced by Michael Porter in 1980. It's comprised of three basic strategies, namely the "Cost Leadership Strategy," "Differentiation Strategy" and "Focus Strategy." Porter indicated that every company or organization should only pursue one of these strategies or risk wasting company resources in a futile attempt to grow the business fast.
Porters Generic Strategies
As mentioned, this strategy comprises three individual strategies that have different scopes. To give you a better understanding of each strategy, we will provide some useful information about each strategy below.
The first of Porter's Generic strategies focus on the pricing side of the business. The targets of the strategy are price-conscious customers. It's an approach where the company provides a quality product that is on par with the competition for a lower price.
The next strategy aims to show the difference between your products and its competitors. While there are price-conscious customers, there are also those who don't care about the price as long as they get high-quality products. This is where the Differentiation strategy comes in. You provide the best features that your product possesses. This generic strategy is much more effective if you have something that the other products don't have.
The last of the three strategies is called Focus strategies. The scope of this strategy includes specific consumers. This means that it is not highly recommended for huge companies, but they can employ it on top of either differentiation or low-cost strategies. Using the Focus strategy, companies can focus more on providing specific products that cater to the specific needs of a consumer group. That is why it is highly applicable for smaller businesses with less competition since it aims to provide unique and exclusive products and services.
Porter's Generic Strategies Templates by GitMind
Like any other strategic outline, Porter's generic strategy also has its own model or diagram. Although complicated when explained, it becomes easier to understand with the use of its diagram. It is also a fact that it is an essential tool for presentations with the audience within a company. On that note, if you want to get free templates, then try the ones below. Otherwise, you can use this AI for Mind Maps if you want to make your own template instead.
Porter's Generic Strategies Blank Template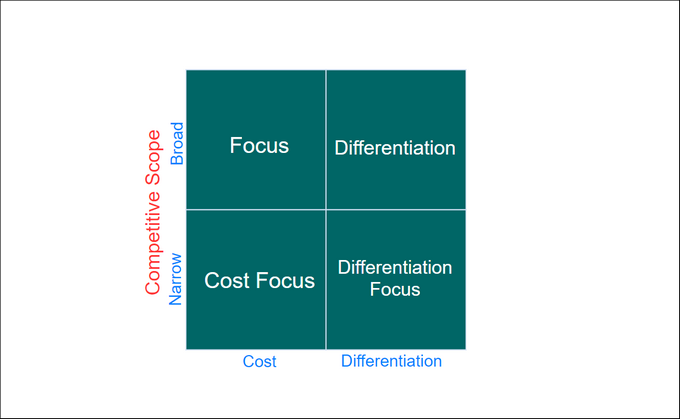 Edit this example
Porter's generic strategies are very subjective. This means that their contents depend on the user. That is why for starters, it is better to use blank templates first. This will ensure that you won't apply the wrong strategy for your company. Aside from that, using blank templates such as this one saves an enormous amount of time.
Medical Sector Generic Strategy Template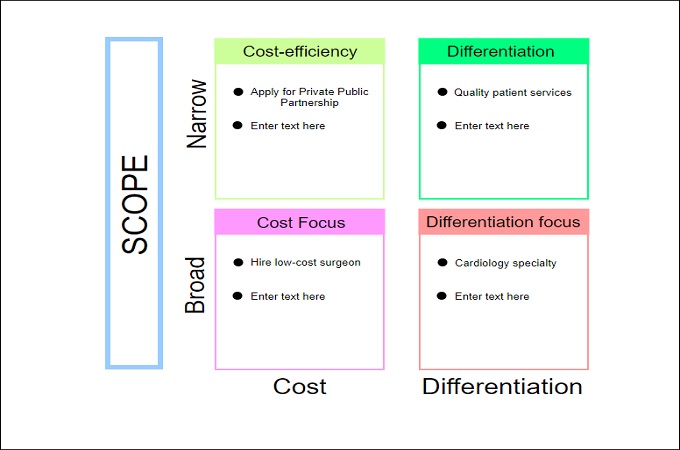 Edit this example
Another way to use this strategy is in the medical field. As the template above shows, every medical institution must have a clear goal on how to sell its services. That is why this model is perfect since it gives them a clear view of the things that they can improve to be successful and avoid bankruptcy.
Hotel Generic Strategy Template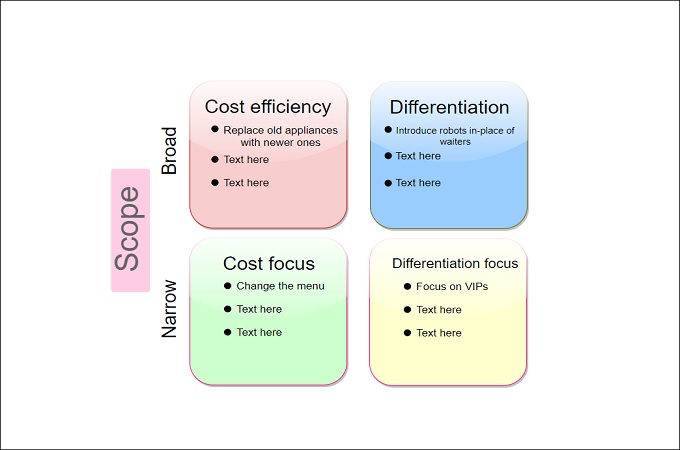 Edit this example
Similar to the previous one, another industry that can use Porter's generic strategies is the hotel industry. The template above shows the things that can be done in order to provide quality and affordable service to the clients. As we all know, a hotel must provide top-notch services to its customers to avoid bad reviews and keep it going.
Conclusion
Business strategies are crucial for any company that provides services and products to its clientele. By determining the right scope and target market, you will be able to provide what the customers actually need. This means that you will avoid spending time and money on producing unprofitable services and products. With that being said, there is no doubt that Porter's Generic Strategies will be a helpful tool if used correctly.