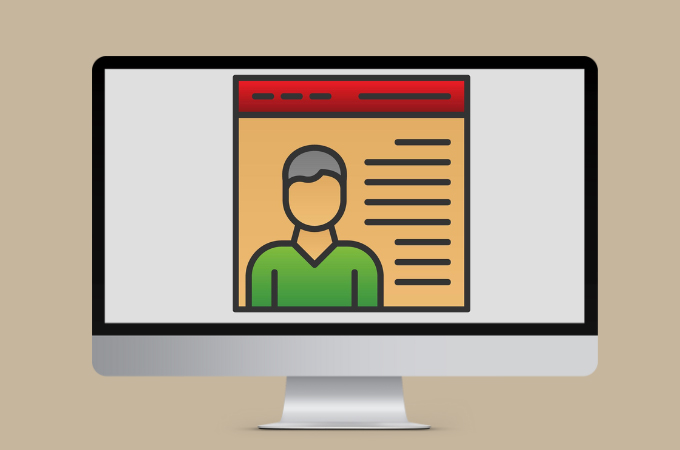 The easiest way to build trust and engage more with your customers is to create a buyer persona. It enables you to distinguish what the various people who discover your products or services may consider buying them. With that, you can efficiently communicate with your target customers. You may more fully comprehend their expectations and respond appropriately by putting yourself in your ideal customer's position. In this article, get some tips and examples on how to create an excellent user persona. Keep browsing now to know more.
What is a User Persona?
User personas are representations of the people who make up your target market. Using a buyer persona, you can gain a deeper understanding of your users' needs and desires. Furthermore, you can learn more about their experiences, actions, and objectives by personifying this information. You must investigate and summarize the objectives, problems, behaviors, and demographic data of your ideal customers before creating user personas. This will help you better understand why your users are purchasing from you by communicating how your service fits into their lives.
The following results can be attained by creating an accurate marketing user persona:
Give exceptional consumer demands first priority.
Avoid developing services that are self-referential.
Obtain a viewpoint that is comparable to that of the users
Engage more target customers
Improve your marketing choices for your particular services
Increase sales and acquire new clients
Simplify the lead generation process while creating a new service
Tips and Examples to Create a User Persona
Conduct User Research
Pick relevant inquiries that can help you learn more about your target market. Moreover, concentrate on the more crucial elements that will determine how your users will interact with your services. Create a detailed user persona that exemplifies the majority of your user based on the findings of your user research. Also, remember to draw attention to their main objectives, concerns, and pre-purchase barriers.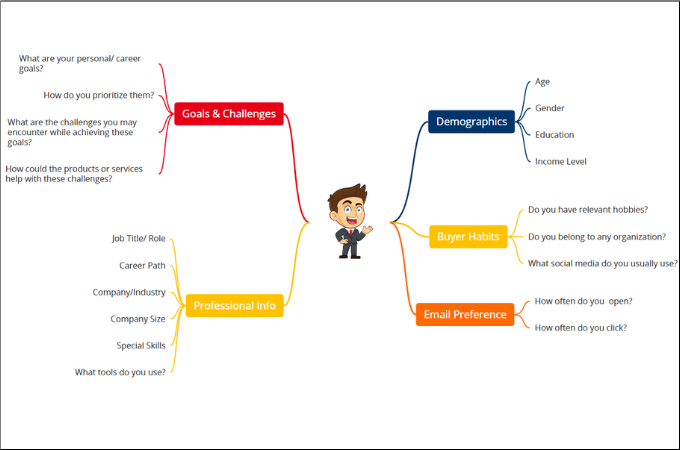 Edit this example
Questions should be brief and straightforward when conducting a survey or research that needs customers' responses. Asking a lot of questions could prevent people from completing it, which makes the research irrelevant. You must speak with your customers directly if you want the information you need to develop your user persona. Aside from that, you can create your poll and post it on your website's page or on social media. Check the above example of persona information that you may include in your survey.
Create Personas Based on Real People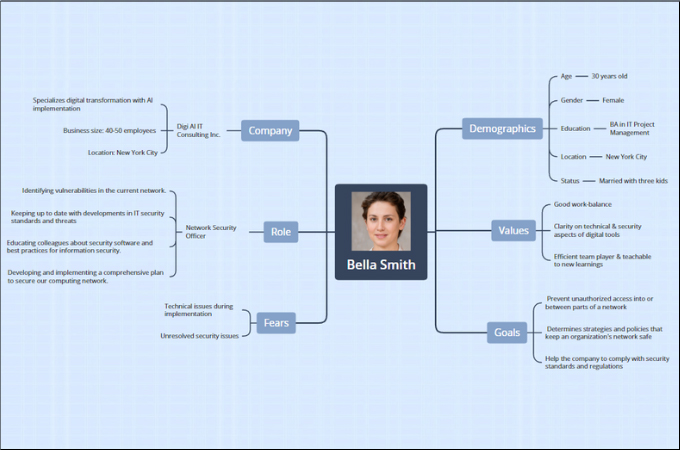 Edit this example
You won't come close to understanding your market if you base the creation of your consumer profile on assumptions. Besides, it is not at all beneficial to create a fake character you believe could be interested in your services. In order to correctly develop a functional character that will work for your brand, ask real questions to your real user base. You should inquire about your users' wants and expectations whenever you can. Create a quick, easy template to gather data from real people that will aid in the development of your user persona.
Start your User Persona with an Informative Introduction
Giving your user personas a backstory is a crucial element of making the whole. It actually doesn't need to be much, just enough to draw attention to important qualities or features. You can discuss the characteristics of your personas in this introduction. Plus, you can explain why this character is important to your business. Further, this strategy is efficient because it provides facts and data that make it more engaging to your targets.
Keep it Simple & Straightforward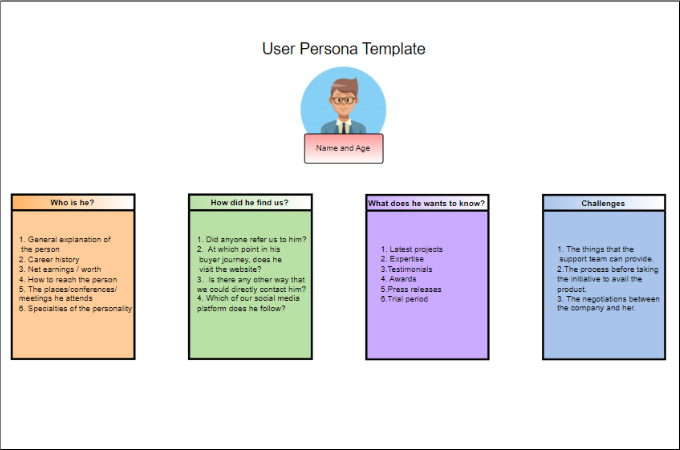 Edit this example
Some user persona templates with comprehensive answers can be found online. It could be tempting to utilize one of them, particularly if you're still learning how to use user personas. To best meet your unique demands, you should develop your own template from scratch. Start out modestly by adding a few user details. Many people tend to be attracted to a simple but visually appealing template. Just make sure that you put the important demographics to make it even more realistic. Here's another user persona example. If you feel the need to provide extra details as you continue, you can keep going and modify it.
Make a User Persona Using a Customer Journey Map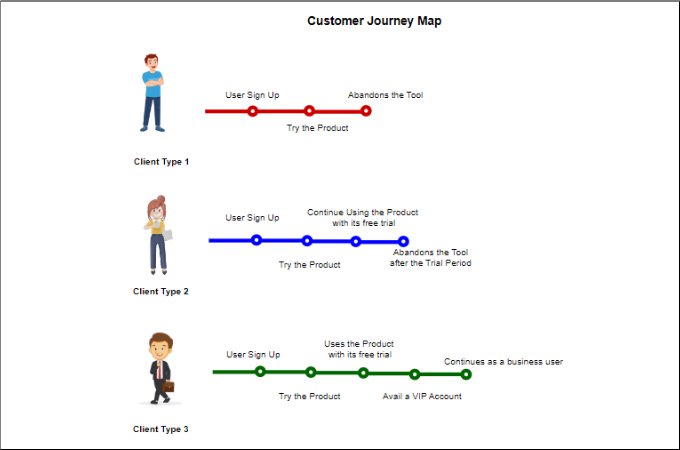 Edit this example
A customer journey map could be useful if you're having problems creating your user personas. This is an incredible approach to examining the customer's journey from a different perspective. In addition to this, it presents more insightful observations that show clearer objectives. It can also help to highlight the demographics that you need to present and see how personas use your product. Have a glimpse of this example of persona below.
Never Make Use of Celebrity or Known Face Images
You should give each persona a real name and choose pictures or selfies that are not famous. The objective is to give the appearance that this is a real person. So, avoid using any popular persons, coworkers, or faces you are familiar with. This can cause people to unconsciously incorporate these individuals' features into their identities. Instead, choose a random individual when designing your persona template.
Include the Specific Goals for your Product or Service
Apparently, user persona examples should include the objectives that your product or service directly influences. On top of that, you should go further and point out any other goals this persona might have. You can provide users with options to help them accomplish their specific objectives. By means of this, target customers will not have a difficult time comprehending the persona.
Conclusion
An in-depth insight into your target customers, the user persona examples are provided above. These tips and templates will help you to develop exceptional services that will outperform your competition. With that being said, there is a bigger opportunity to increase sales and engage more targets. We hope you learn something here, and please follow GitMind for more interesting blogs that will help you boost your market.