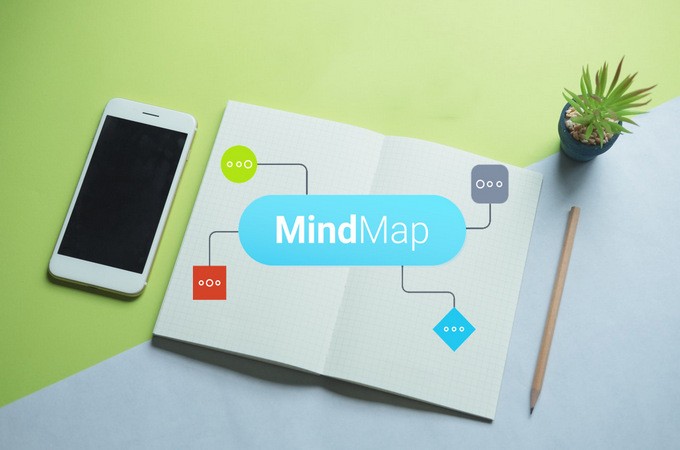 Studying is a problem for most people. The very reason that they hate memorizing a lot of stuff and writing down a bunch of information. Furthermore, most people nowadays prefer to do things digitally. Instead of using the actual books when reviewing, they tend to capture photos of the specific pages and review using their tablets, phones or laptops.
However, the common problem regarding reviewing has been solved with the use of mind maps, which serves as an effective and easy way to remember bits of important information. And even more good news, we now have web-based tools made to study with mind maps. Now, you can make your own mind maps while using your gadgets at the same time. These are the kinds of tools I will introduce to you today.
Mind Map Uses for Study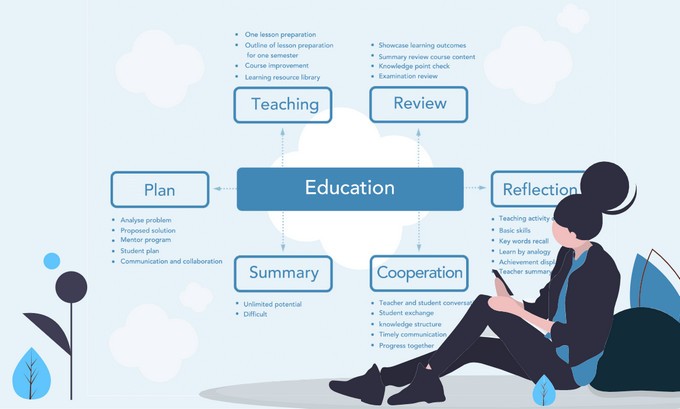 3 Free Mind Map Makers for Students
GitMind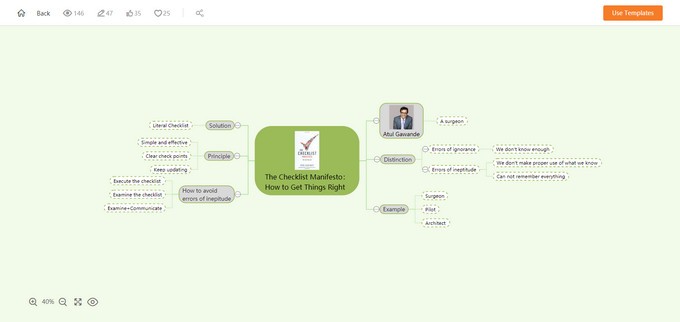 Click the above image to download this template for free.
GitMind is one of the greatest study tools that you will ever see. It is very easy to use. It allows you to make your personalized mind map with ease. With this tool, you can insert images with the bits of information in every node, which will help you memorize things easier and faster. Furthermore, it can also be a great tool for collaboration. It will allow you to study in a group while staying in the comfort of your homes. Moreover, the interface is indeed user-friendly. With various templates in GitMind, you are able to create mind maps hassle-free. What makes this tool great is the fact that it is free of charge.
GoConqr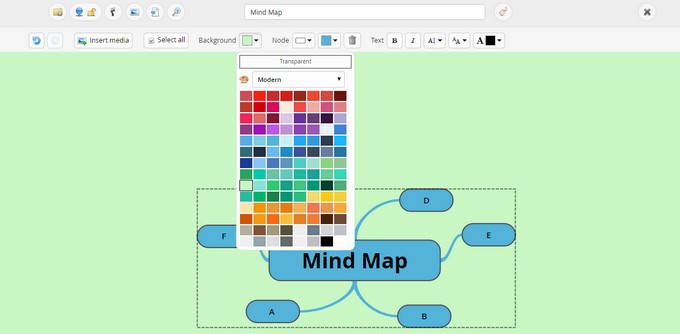 This is another great tool to make a mind map for studying. This is free of charge too. If you want to make your own personalized mind map then this tool is surely what you are looking for. Unlike other mind map makers, this tool will ask you more about the mind map that you are planning to make before you are redirected to its creating interface. Nevertheless, those prompts are just directing you toward the topic that you need to focus on. On the other hand, it has a nice looking interface that you will enjoy working it, plus it is very easy to use.
Mindmap Maker

This tool is a great tool for studying, too. It is free and very easy to use. What makes it different from others is its extensive insert option that allows you to do to add more information for a variety of subjects. If you are first-timer, you do not have to worry. Furthermore, once you open this tool it will show you a tutorial on how to use the interface. Definitely, this tool will show you how to study with mind maps.
Benefits of Mind Maps in Study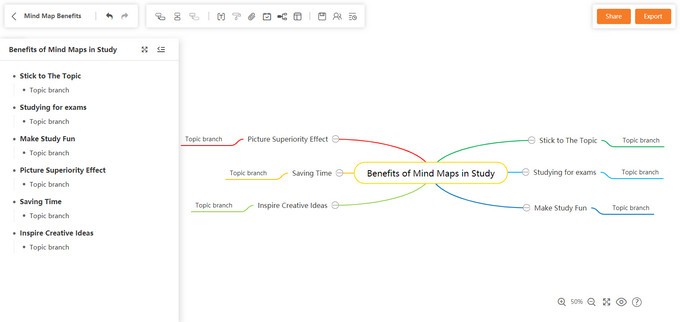 Picture Superiority Effect
Several studies show that most learners in recent generations learn visually. It means that these learners understand best when they see things with their eyes to then be interpreted through the brain. Moreover, the combination of words and pictures makes it easier to memorize work more than just simple words. With the use of the tools mentioned above, you can have a comprehensive and remarkable mind map with illustrations or images.
Using mind maps will truly save time because with mind maps you will only put information that is relevant or the more important keywords. Instead of memorizing a whole statement word by word that will definitely take time, you can simply memorize the bits of important information. Furthermore, typing up notes is faster than writing them down by hand.
Since these tools can be used as instruments for collaboration you can get information from one another that you might not have thought of. Moreover, brainstorming will promote the sharing of creative ideas that your team has devised.
Making mind maps is like having little clusters of related information. This means that it will not go far from the main topic because the mind map itself is like a guide for which important information you have to include. Especially when you are writing essays or compositions.
Studying while collaborating with other people is great. Memory recall is improved if you have someone to discuss it with. It will not only develop your thinking skills but also your social skills.
Conclusion
The mentioned benefits and uses of mind maps above show you how to make mind maps for studying. Studying or recalling information will be better if the brain is not flooded with too much trivial information. Important keywords that are shorter and stand out are more effective than memorizing long statements word for word. If the information used includes pictures, the brain will easily recognize them. So make studying with mind maps a habit.